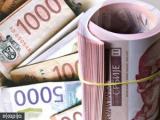 Subsidies of up to 60 percent for new private sector jobs

The Goverenment of Serbia will today adopt new measures to boost employment. When creating new jobs, the private sector companies will be able to count on subsidies amounting to 30 and 60 percent. Special benefits will be provided for the employment of persons younger than 30 and older than 60 years of age to assist these endangered categories in finding find a job, Novosti daily newspaper writes in its today's issue.

Tax incentives will also be granted for all persons who have been unemployed for at least six months prior to employment.

The Tax Administration, the Labor Inspection and the National Employment Agency will make sure that these measures are conducted properly.