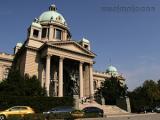 Members of the Serbian parliament adopted on Thursday a set of financial laws which should further regulate the country's financial market situation.

They are also meant to make this market " a significant resource in financing domestic economy".

The adopted legislation include the capital market law and the amendments to the following set of laws, namely, on foreign exchange transactions, on investment funds, on financial leasing, on default interest rate, on pension funds and pension plans and on payment transactions.

The key principles of the capital market law are protection of investors, market transparency, harmonization with European directives and regulation of activities of market players, primarily the market intermediaries, broker-dealer companies.

The amended foreign exchange transaction law should enable Serbia to fulfill the conditions for joining the World Trade Organization (WTO) and make a step forward in the liberalization of its foreign exchange operations.

Amendments to the law on investment funds envisage expansion in the range of activities conducted by investment management firms, so that besides the setting up, organizing and managing of investment funds, they will be performing other operations in line with the capital market law, such as portfolio management and provision of investment advice to clients other than solely investment funds.